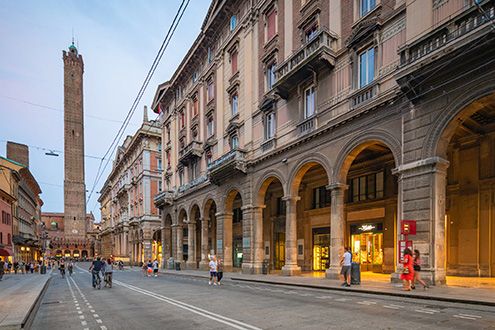 Parking Services - Urban Mobility Residence
One of the biggest comfort requested by guests in a city center like Bologna, even tourists or business travelers, is the possibility to move freely in a practical and easy way.
Urban Mobility Residence ensures to all his guests this big opportunity, a private parking place in an underground parking area is available on demand, the security of your private car will be ensured.
You won't need to walk a lot in order to reach your car, because a parking place is available for the guest of Urban Mobility Residence. Every Morning you will find your car in a close and safe place, a parking place just a couple of floor down your apartment.
If is possible, we also suggest you to forget your car for some days. In this case Urban Mobility Residence is once more the best solution: our Residence with parking place in Bologna is a smart and strategic location. Once outside the parking, you will be really close to every destinations in Bologna city. Just in front of the residence, you will find the bus stop, from there are easy to reach the center, Bologna Marconi Airport, the train station, Bologna Fair Exhibitions Centre, Bologna University Area.
Anyway the faster mean for moving through Bologna historical area is for sure the bicycle: there is a bike sharing service active in the city and around Urban Mobility Residence you can easily find a bike a for you.
Another further possibility offered to our guests from Urban Mobility Residence, residence with a covered parking place in Bologna, is bus shuttle transfer service, available on demand, in order to go to Marconi Bologna Airport, train station, Fair and Exhibitions centre, Unipol Arena and other destinations.

300 meters from the Ospedale Maggiore Alberto Pizzardi

4km from
Bologna Marconi Airport

4 km from
the railway station

4 km from the Bologna Fair
and the Unipol Arena